$240,929
was granted by CAF America to JuJu Foundation Inc. thanks to the generosity of the Omaze donor community
This Omaze experience can:
Help the JuJu Foundation provide over 45 scholarships to high school and undergraduate students facing financial challenges.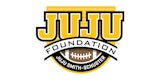 The JuJu Foundation is a non-profit organization dedicated to the support of youth initiatives and lifting the spirits of those in need. The Foundation was established in 2019 by Kansas City Chiefs and former University of Southern California wide receiver JuJu Smith-Schuster.